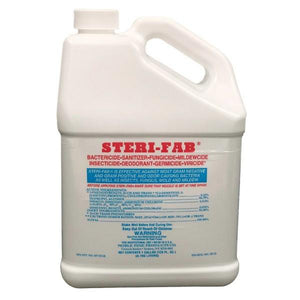 Steri-Fab 1 Gallon
Sterifab is an easy to use product that comes in a convenient 16 oz. spray bottle or a gallon size container. Just spray Sterifab on bedding, mattresses, furniture, carpets or virtually anything to eliminate pests quickly. Sterifab will kill a large assortment of pests including bed bugs, mold, fungus, germs, and odor-causing bacteria. Sterifab is a great product to spray on luggage before any vacation.
Target Pests
Bed Bugs, Bed Bug Eggs, Roaches, Ants, Silverfish, Sowbugs, Centipedes, Firebrats, Lice, Ticks, Fleas, Dust Mites, Fungus, Bacteria, Mold, and Mildew.
For Use In
Indoor use
Application
Mattress, box-spring, upholstered furniture, carpets, and many other inanimate objects.
Coverage Area
Spray coverage varies from 4-8 ounces depending on size.
Active Ingredient
3-Phenoxybenzyl - 0.22%, Isopropyl Alcohol- 60.39%, Didecyl Dimethyl Ammonium Chloride- 0.114%, Dimethyl benzyl ammonium chloride- 0.076%
---
We Also Recommend