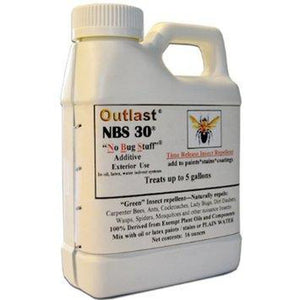 Outlast Nbs 30
Naturally Repels: Carpenter Bees, Ants, Cockroaches, Lady Bugs, Dirt Daubers, Wasps, Spiders, Mosquitoes, and other Flying & Nesting Insects. 
Outlast NBS-30 is a liquid repellent concentrate.

Mix into paints, stains, or sealers for extended control lasting two years or more - Contains a variety of natural plant oils including Citronella Oil, Cedar Oil, Rosemary Oil, Eugenol, Lemongrass Oil and Mineral Oil.
Each 16 oz measure bottle makes 5 gallons of finished product.
---
We Also Recommend