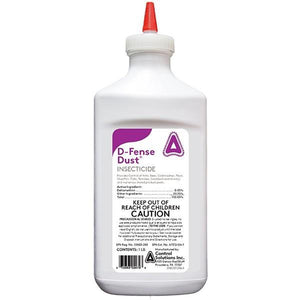 D-Fense Deltamethrin Dust
D-Fense Dust is an insecticidal dust formulated with deltamethrin to control various insects. D-Fense Dust is waterproof and will provide a residual barrier in undisturbed areas for up to 8 months.
Labeled for: Ants, Boxelder Bugs, Cockroaches, Crickets, Silverfish, Fleas, Firebrats, Carpenter Ants, Carpenter Bees, Centipedes, Ground Beetles, Millipedes, Scorpions, Spiders, Sowbugs, Moths, Carpet Beetles, Bed Bugs, Pantry Pests, Stored Product Pests, and Aphids.
Active Ingredient: Deltamethrin 0.05%
---
We Also Recommend