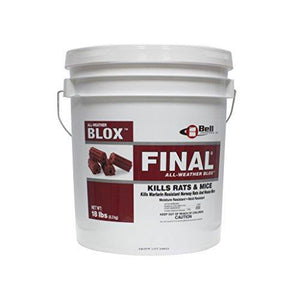 Final Blox Rodenticide 18 Lbs
FINAL BLOX contains the powerful active ingredient, Brodifacoum, the strongest, single-feeding anticoagulant on the market today. FINAL is effective in controlling both rats and mice but works especially well to clean out persistent mouse infestations.

FINAL BLOX, with its distinctive cog-like shape, is made with more than 16 human food-grade, inert ingredients for a flavor rats and mice can't resist. The bait of choice in the pest control industry, multiple-edged bait with the palatability of a meal bait and the weatherability of a paraffinized bait.
This highly weatherable block bait easily fits in tight baiting places. A hole in the center of this 20g BLOX lets PMPs place it on bait securing rods in tamper-resistant bait stations or nail or wire it in place.
---
We Also Recommend