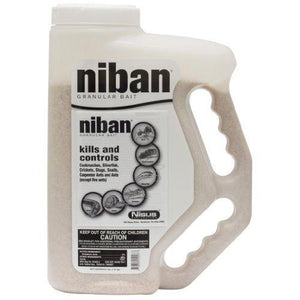 Niban Granular Bait 4 Lb
Target pests: Ants, Cockroaches, Crickets (Camel, house, field, and mole) Earwigs, Silverfish, Snails, and Slugs. See label for a complete list.

Application: NIBAN is a coarse granular bait that provides excellent outdoor insect control. Can be applied using the 4lb bottle itself or using a mechanical spreader or power duster. 

Apply approx. 6 oz. per 100 sq. ft. / 4 lbs. per 1000 sq. ft.

Active Ingredient: Orthoboric Acid 5%, commonly referred to as Boric Acid.
---
We Also Recommend