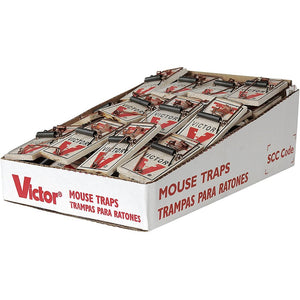 Victor Metal Pedal Mouse Trap (Pack Of 72)
Item Num M040
For clean and quick trapping

Easy to use

Can be used around kids and pets

Made in the U.S.A with environmentally friendly FSC certified wood

No chemicals or poisons can be used around children and pets
Victor Metal Pedal Mouse Trap
The Original Wooden Snap Trap
The Victor Metal Pedal Mouse Trap is the original wooden snap trap for one simple reason – it works. Its superior quality and effectiveness are the reason Victor has sold more than 1 billion snap traps around the world. Likewise, professional pest control companies have made this trap their trap of choice. Trusted to control mice for more than 115 years, this trap delivers clean, effective rodent control.
Quickly and Effectively Eliminates Mice
The Metal Pedal Mouse Trap makes rodent control easy with its simple, straightforward design and instant results. Once a rodent triggers the pedal, the trap immediately springs closed to eliminate the pest. After a catch, simply throw away the entire trap for quick cleanup or dispose of the
How to Set the Victor Metal Pedal Mouse Trap
Remove Staple

To get started, remove the arm bar from the packaging staple. Move the arm bar to the back of the trap so it hangs over the back of the trap.

Bait the Trap

Bait the trap with a high-protein substance, such as peanut butter, chocolate or hazelnut spread. Place the bait on the metal bait pedal using a Q-Tip to avoid spreading your scent.

Hold Securely

Pull the kill bar back and hold it in place with your thumb.

Set the Trap

Swing the arm bar over the kill bar and latch the bent end of the arm bar into the pedal's notch. Slowly release pressure from the kill bar until the arm bar holds the kill bar securely.
Target Unwanted Rodents
Victor Metal Pedal Mouse Traps are a time-tested solution for capturing the mice that have invaded your home or business. Mice are able to sneak inside buildings through impossibly tiny spaces where they can spread disease and destroy your property.
---
We Also Recommend